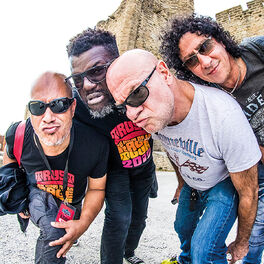 | | | | |
| --- | --- | --- | --- |
| | Antisocial | TRUST | 05:09 |
| | Les sectes | TRUST | 02:43 |
| | L'élite | TRUST | 03:56 |
| | Police milice | TRUST | 02:24 |
| | Ni dieu ni maître | TRUST | 03:54 |
| | Certitude... solitude... | TRUST | 03:57 |
| | On lèche, on lâche, on lynche | TRUST | 03:50 |
| | Saumur | TRUST | 05:51 |
| | Antisocial | TRUST | 06:44 |
| | Instinct de mort | TRUST | 03:46 |
Beliebteste Veröffentlichung
Neuheiten von TRUST auf Deezer
| | |
| --- | --- |
| | Antisocial |
| | Monsieur Comédie |
| | Instinct de mort |
| | Au nom de la race |
Beliebte Alben
Die beliebtesten Alben von TRUST
Die Rechteinhaber haben darum gebeten, Teile oder die gesamte Diskografie des*der Künstlers*in für Nutzer*innen zu sperren. Wir geben unser Bestes, um die Musik so schnell wie möglich wieder verfügbar zu machen.
Ähnliche Künstler*innen
Ähnliche Künstler*innen wie TRUST
Playlists
Playlists & Musik von TRUST
Erscheint auf
Hör TRUST auf Deezer
French hard-rock band Trust were formed in 1977 by guitarist Norbert Krief and singer Bernie Bonvoisin. The band's membership has changed over the years since then with several notable musicians named among their members, including Iron Maiden drummers Nicko McBain and Clive Burr. The main core of the band along with Bonvoisin and Krief is made up of Ismeala Diop, David Jacob and Christian Dupuy.
Trust's release 'Prends Pas Ton Flingue' in 1977 was the first of 14 studio albums, eight of which were released between 1977 and 1984. Several of the band's French albums, for example 'Répression' (1980), were re-released in English, with advice on English lyrics from musicians such as Jimmy Pursey from British punk band Sham 69. Single 'Antisocial' (1980) from album 'Répression' is perhaps Trust's best-known track and was covered by British group Anthrax in 1988. Trust's 1981 album 'Marche Ou Crève' was also released in English in 1982 as 'Savage', and 'Trust IV' (1983) was released in English as 'Man's Trap' (1984). The band became renowned for their politically charged songs. The track 'Misery' (1982) from 'Marche Ou Crève' which spoke of Margaret Thatcher's social policies at that time was not translated for the English version of the album. Other political topics which Trust's songs have spoken out about included capitalism, communism, cults, Nazism and anti-semitism and individuals such as Ayatollah Khomeini and Jacques Mesrine.
The band took a break after the release of 'Rock'n'Roll' in 1984. Their next releases were EPs 'En Attendent...'(1988) and a re-release of 'Prends Pas Ton Flingue' in 1992. Although they did not form again as a group, Krief and Bonvoisin got together to release 'Europe et Haines' in 1996, 'Ni Dieu Ni Maître' in 2000 and '13 à Table' in 2008. Further releases were 'Dans le Même Sang' (2018) and 'Fils de Lutte' (2019).