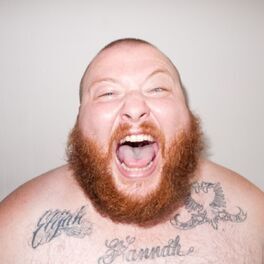 Action Bronson
58 192 fans
Top canciones del artista
| | | | |
| --- | --- | --- | --- |
| | Standing In The Rain | Action Bronson, Mark Ronson, Dan Auerbach | 03:22 |
| | Solid Plan | Larry June, The Alchemist, Action Bronson | 02:55 |
| | C12H16N2 | Action Bronson | 02:38 |
| | 1Train (feat. Kendrick Lamar, Joey Bada$$, Yelawolf, Danny Brown, Action Bronson & Big K.R.I.T.) | Yelawolf, Big K.R.I.T., Kendrick Lamar, Danny Brown | 06:12 |
| | Prince Charming | Action Bronson | 02:31 |
| | Baby Blue (feat. Chance the Rapper) | Action Bronson, Chance the Rapper | 04:40 |
| | Let Me Breathe | Action Bronson | 02:53 |
| | Subzero | Action Bronson | 03:00 |
| | Easy Rider | Action Bronson | 04:19 |
| | Live from the Moon | Action Bronson, Yung Mehico | 02:38 |
Último lanzamiento
Nuevos lanzamientos de Action Bronson en Deezer
Álbumes populares
Los álbumes más populares de Action Bronson
A petición de los propietarios de los derechos, una parte o la totalidad de la discografía de este artista no está disponible. Deezer continúa haciendo todo lo posible para que esté disponible cuanto antes.
Artistas similares
Encuentra artistas similares a Action Bronson
Playlists
Playlists y música de Action Bronson
Aparece en
Escucha a Action Bronson en Deezer
Ariyan Asrlani, who goes by the name Action Bronson, is a hip-hop performer from New York who first garnered attention through his internet cookery show 'Action in the Kitchen' and he has also appeared in television cooking shows. He released two albums - 'Dr. Lecter' and 'Well-Done' (with Statik Selektah) - in 2011. 'Mr. Wonderful' (2015) went to number two on Billboard's Rap Albums chart, number three on the Top R&B Albums chart and number seven on the Billboard 200. The track 'Baby Blue' featuring Chance the Rapper went to number 91 on the Billboard Hot 100. Other releases include 'Blue Chips 7000' (2017) and 'White Bronco' (2018). His 2020 schedule was to include an appearance at a venue in Morrison, Colorado, with Ice Cube and Method Man.