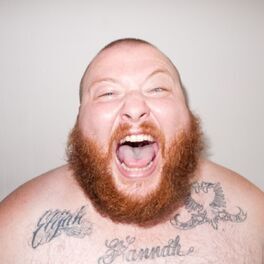 Action Bronson
58 190 takipçi
Sanatçının En çok dinlenenleri
| | | | |
| --- | --- | --- | --- |
| | 1Train (feat. Kendrick Lamar, Joey Bada$$, Yelawolf, Danny Brown, Action Bronson & Big K.R.I.T.) | Yelawolf, Big K.R.I.T., Kendrick Lamar, Danny Brown | 06:12 |
| | Baby Blue (feat. Chance the Rapper) | Action Bronson, Chance the Rapper | 04:40 |
| | Tear Away Shorts | Action Bronson, The Alchemist | 01:34 |
| | Strictly 4 My Jeeps | Action Bronson | 02:45 |
| | Actin Crazy | Action Bronson | 03:59 |
| | Not Enough Words | Action Bronson, Statik Selektah | 03:16 |
| | Cocoa Butter | Action Bronson, Statik Selektah, Nina Sky | 04:44 |
| | Compliments 2 the Chef (feat. Lauriana Mae) | Action Bronson, Lauriana Mae | 03:00 |
| | Standing In The Rain | Action Bronson, Mark Ronson, Dan Auerbach | 03:22 |
| | Descendant of the Stars (Traveling the Stars Theme) | Action Bronson | 02:39 |
Yeni çıkanlar
Yeni çıkan şarkılarıyla Action Bronson Deezer'da
Popüler albümler
Action Bronson ve en popüler albümleri
Hak sahipleri bu sanatçıya ait kataloğun bir kısmının ya da tamamının kullanıcıların erişimine kapatılmasını talep etti. Mümkün olan en kısa sürede erişime açmak için elimizden geleni yapıyoruz.
Benzer sanatçılar
Action Bronson ile benzer sanatçıları bul
Çalma listeleri
Çalma listeleri ve müziğiyle Action Bronson
Yer aldığı albümler
Action Bronson şarkılarını Deezer'da dinle
Ariyan Asrlani, who goes by the name Action Bronson, is a hip-hop performer from New York who first garnered attention through his internet cookery show 'Action in the Kitchen' and he has also appeared in television cooking shows. He released two albums - 'Dr. Lecter' and 'Well-Done' (with Statik Selektah) - in 2011. 'Mr. Wonderful' (2015) went to number two on Billboard's Rap Albums chart, number three on the Top R&B Albums chart and number seven on the Billboard 200. The track 'Baby Blue' featuring Chance the Rapper went to number 91 on the Billboard Hot 100. Other releases include 'Blue Chips 7000' (2017) and 'White Bronco' (2018). His 2020 schedule was to include an appearance at a venue in Morrison, Colorado, with Ice Cube and Method Man.